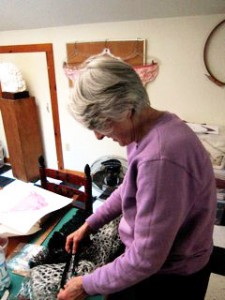 Sharon Myers is a fabric, clay and mixed media artist based in southern Vermont. She began her career in the 1960's earning a Bachelors Degree in Sculpture and a Masters Degree in Fine Arts and Aesthetics. Since her early academic days, she has put her artistic talents to work in a variety of media. Loving color she tried quilting and weaving, taking a few courses while living in Boston. The color and texture seemed to satisfy her sculptural needs giving her an opportunity to work on larger pieces. She began sculpture again in 2000 when a friend dared her to return to creating portrait busts.
In 2010, Sharon decided to pursue an MFA at Heartwood College of Art in Kennebunk, Maine. Seeking to shake up her creative perspective, she was happy to experiment in new media as part of this program, producing some of her most original pieces to date as part of "The Underwear Project".
Sharon has published articles in magazines and journals on the art of quilting. Her work has been exhibited internationally as well as locally to much acclaim.
—> Browse Sharon Myer's Artwork
---
RESUME
Education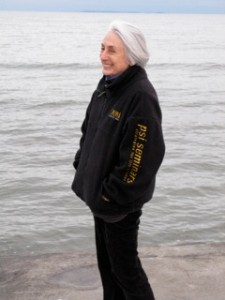 Heartwood College of Art , Kennebunk, Maine, MFA program 2010- 2015
University of Massachusetts, Amherst, Mass. M.Ed. with honors in Aesthetics Education 1972
Indiana University, Bloomington, Indiana, Graduate School of Fine Arts in Sculpture, September 1966- August 1967
Connecticut College, New London, Conn. A.B. 1966 Major in Fine
Arts, ( Sculpture), Minor in Art History
Related Courses
Sculpture: Studying with Lawrence Nowlan, Windsor, Vermont, Artist in Residence, St. Gaudens. January 2002 to the present
Johnson State College Art Institute : painting and quilting 1987
Haystack Mountain School of Crafts, Deer Isle , Maine
Weaving with Warren Seelig, summer 1977
Fabric Monitor with Jody Klein, summer 1979
Multimedia Graphics, Sas Colby, summer 1982
Direct Dye Workshop, Ed Lambert, summer 1982
Basketry, Jane Sauer, summer 1983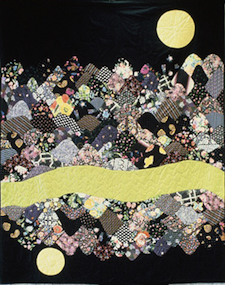 Papermaking, Helen Fredricks, summer 1983
Silk Dye Workshop, Ellen Becker, summer 1983
Boston YMCA, Boston, Mass. On and Off Loom Weaving with Marty Holmer and Nancy Sharples 1974-1975
Rhode Island School of Design, Providence, R.I. Weaving with Alice Marcoux 1976
Boston University, Boston, Mass., Arts Administration 1973
Publications
"The Contemporary Quilt" New American Quilts and Fabric Art"
Patti Chase and Mimi Dolber, E.P. Dutton September 1978
Stitch 'N Sew Quilts, February 1984 Article " Sharon Myers, the Evolution of an Artist"
"Breaking with Tradition" The Quilt as Art Form
"The Quilt" New Directions for an American Tradition
Quilts, Contemporary Americans
Contemporary Quilts in Japan
Exhibitions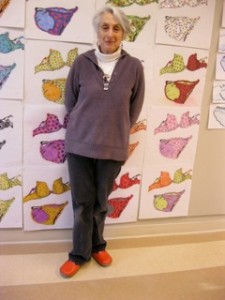 Unusual Threads, Southern Vermont Arts Center, Manchester, Vt. 2019
Crowell Gallery, Newfane, Vt. The Grocery Slip Wedding Gown Project, August 2017
Crowell Gallery, Newfane, Vt. The Panty Hose Project, August 2016
Senior Thesis Show, Church Street Building, Brattleboro, Vermont, April 2015
Mitchell Giddings Gallery, The Underwear Project, Brattleboro, Vermont, December 2015 
The Underwear Project: American Traders, Brattleboro, Vt. September 29- October 2012
Portrait Sculpture: C. X. Silver Gallery, June 2007, Brattleboro, Vt.
Thirty Three Years Later: Sharon Myers Portraits June 2004
The Hooker Dunham Theater and Gallery , Brattleboro, Vermont
Quilts, Contemporary Vermont, The Brattleboro Museum and Art Center 1988
Quilts, Contemporians Americains, Angers, Tours, Mulhouse, Paris, France 1984-1985
Contemporary Quilts in Japan, toured 1984-1985
The Quilt, New directions for an American Tradition, Quilt National, toured the U.S. 1983-1984
Breaking with Tradition, The Quilt as Art Form, toured Canada 1983-84
The Washington Craft Show, The Smithsonian Institute, Washington , D.C. May 1983
Sharon Myers Quilts, Main Street Gallery, Nantucket, Mass. 1981
Contemporary Quilts and Fabric Art, Creiger Seson Gallery, Boston, Mass. 1981
Haystack, The Craft Tradition. Traveled Maine 1983
Wearables, The elements Gallery of Contemporary Crafts, N.Y., N.Y., and Greenwich, Conn. 1980
"Put Ons", Boston City Hall, Boston, Mass. 1978
Contemporary Quilts, San Regret, Boston, Mass. 1977
Collections
Raytheon Corporation, Wayland, Mass.
Tufts-New England Medical, Medical Center, Boston, Mass.
Myers Associates, Lebanon, N.H.
Karen Hesse, Brattleboro, Vt.