Southern Vermont Arts Center
Manchester, VT
Unusual Threads: Modern Fashion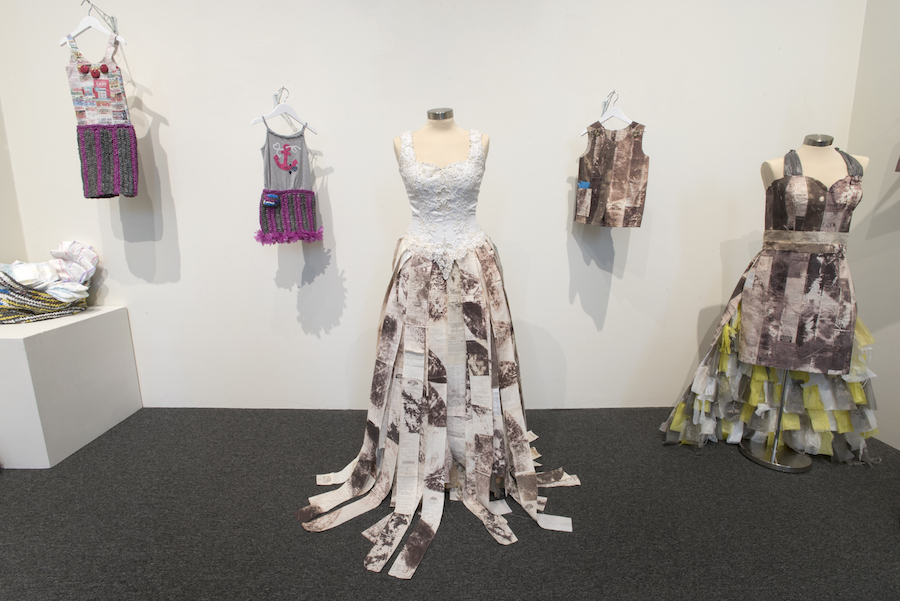 UNUSUAL THREADS: STITCHING TOGETHER THE FUTURE OF FASHION by Marta Pauer Tursi.
From ART SCOPE MAGAZINE MAY/JUNE 2019
Marriage is the theme for artist Sharon Myers in an installation entitled "Promise" that comprises two dresses and two child rompers all made of manipulated grocery slips. It is difficult not to hear a woman's voice in this display that raises the issues of male and female responsibilities in child raising, the burden and costs of marriage and children, wage disparity, divorce and single parenthood. It is all there. Also, there is a lovely unity of soft colors and fading text on the receipts and the suggestion that despite the depicted strain, this is a family.
Materials: grocery slips, plastic bags, diapers, old wedding gown.
ARTIST STATEMENT
UNUSUAL THREADS: STITCHING TOGETHER THE FUTURE OF FASHION
Southern Vermont Arts Center
My proposed site-specific installation invites viewers to contemplate the future of fashion in the context of the changing social norms and economic consequences of the institution of marriage.
Three themes form the basis of my creative approach:
Trends in marriage and divorce in today's society and the financial and personal difficulties that single parents face in raising their children.
Inequalities in the distribution of wealth, particularly the disparities in wages and employment among women compared to men.
The creative challenge to transform everyday waste such as discarded clothing and single use items into something entirely new, wearable, and beautiful.